Fellow aesthetics doctors and injectors came together both in person and via online for a Plinest injection session led by Dr Lim Ting Song and Dr Giulia Cattarini recently.
Dr Giulia, 3rd generation of the founding family of the company Mastelli Aesthetics began the Master Class with theoretical background on PN polynucleotide (PN) and Polydeoxyribonucleotide (PDRN) before proceeding with case studies. As Dr Giulia is actively involved in various clinical research world-wide for PN/PDRN, her session gave attending clinicians medical in-depth on the success of Plinest in numerous use cases for skin regeneration.
Dr Giulia then continued with Injection Technique Demonstration, sharing a thorough and meticulous approach to patient assessment and injection technique for Plinest. Angle, depth and precision of injections on targeted sites were shown and explained, and ample opportunities offered for questions and feedback.
Dr Lim: Growing younger with PLINEST Micro-Cannula Injection Technique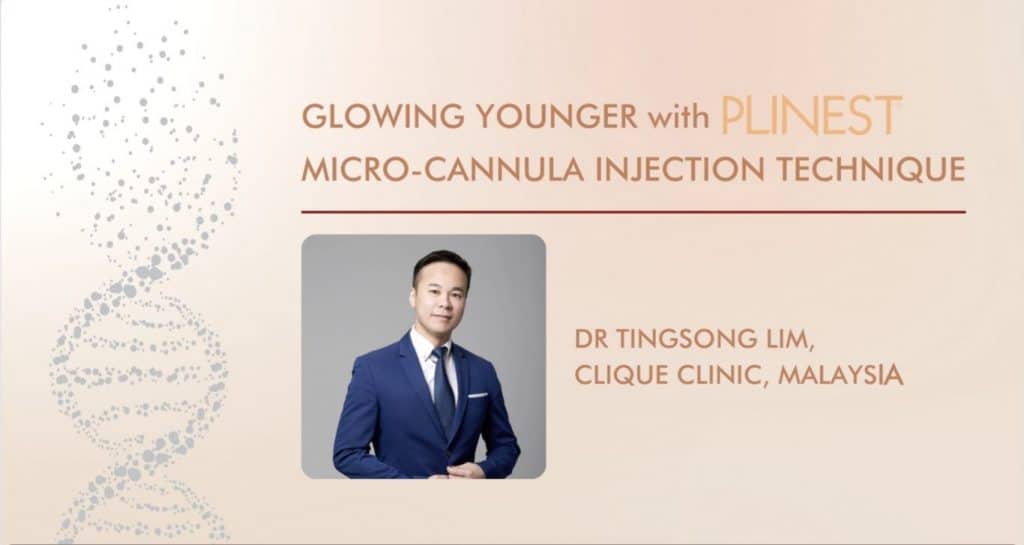 Dr Lim's session was about his preferred method of injection for polynucleotides, which is via the micro- cannula. He placed a micro-cannula at one site, and with his injection needle, he uses this cannula point for infiltration. Dr Lim will angle his needle in several directions, distributing the product uniformly throughout the area, all the while using the cannula as entry point. This is a good way to reduce multiple injection points, especially for patients sensitive to pain.
"The cannula has to be placed close to the skin, at the subdermal area" Dr Lim advised.
Dr Lim uses a 25 gauge cannula for his demonstration, but he emphasises that a 27 gauge is possible as well.
After one site, Dr Lim will insert another cannula, and repeat the procedure of depositing Plinest in the surrounding areas of the cannula, which remains the only single injection point for that site.
Last but not least, Dr Lim shares that he finds Polynucleotides alone less effective for older patients in comparison with younger patients. "For older patients, where the skin are drier, so I like a combination of Hyaluronic Acid, and Mannitol, which is why the Newest offers higher efficacy at this point of time."
Plinest Master Class 2022 Malaysia