Meet our award winning experts and our dedicate teams that will help you accomplish your needs.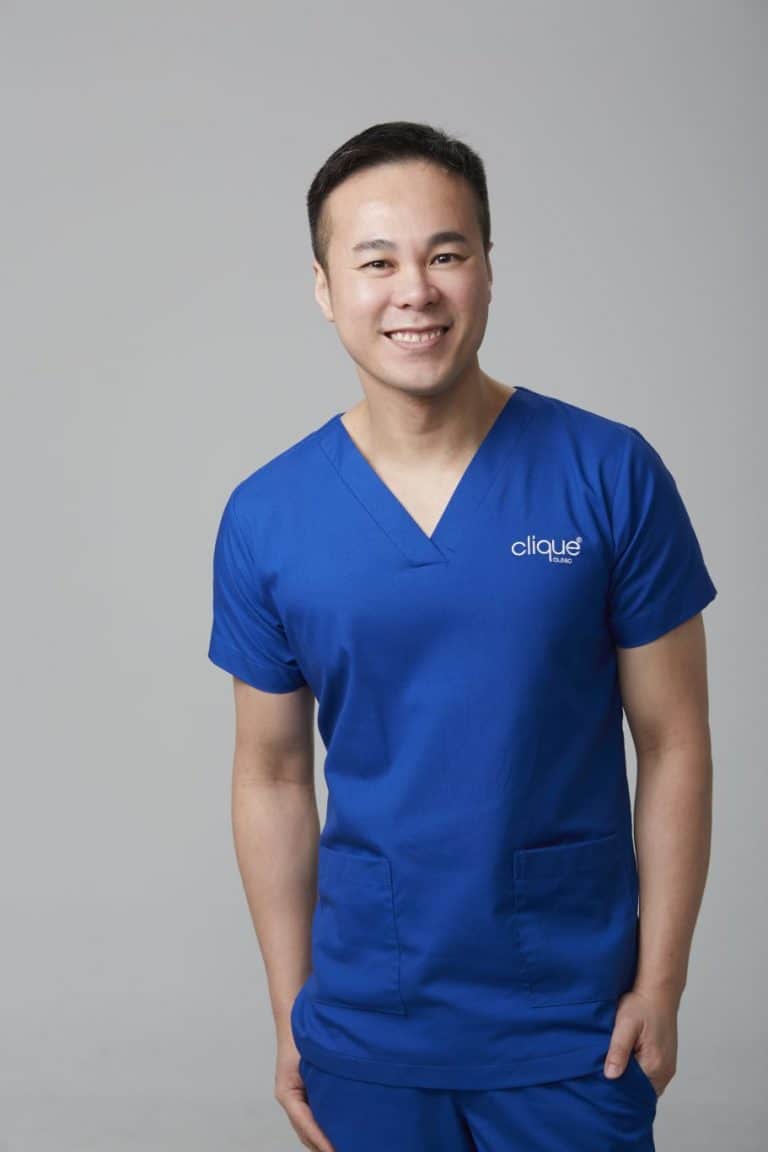 As one of the early members who received the License of Credentialing and Privileging (LCP) for Aesthetic Practices in Malaysia, Dr Tingsong Lim has been actively involved in academic research and training on Asian facial and body aesthetics, clinical application of fillers' rheology, facial overfilled syndrome, pigmentary disorders, laser medicine and regenerative medicine.
Graduated from Tohoku University School of Medicine under the Monbusho Scholarship, Dr Lim speaks 4 languages (English, Mandarin, Bahasa Malaysia, Japanese) fluently, and is a frequent speaker regionally and internationally.
Dr Tingsong Lim is also very involved in lecturing and training doctors locally and regionally in the aesthetic field and has facilitated many learning and coaching sessions in many clinics across the globe. During his day off, he runs Clique Academy together with his colleagues to pass down the knowledge and passion of Aesthetic Medicine to local as well as international aesthetic practitioners.
Best Abstract Award of 5 Continent Congress in Barcelona (2017)
Winner of Anti-aging & Beauty Trophy for Best Clinical cases in Non-invasive Body Reshaping 2017-2018
2017 : Winner of Anti-aging & Beauty Trophy for Best Clinical cases in Facial Rehabilitation 2017-2018
Board of Director
International Society for Dermatologic & Aesthetic Surgery (ISDS)
Assistant International Liaison
Malaysian Society of Aesthetic Medicine
Scientific Director
Aesthetic Dermatology Academy Conference (ADAC)
International Scientific Director
International Seminar and Workshop in Aesthetic Medicine (iSWAM)
Honorary Advisory Board Member
International Medical Aesthetic Conference and Exhibition (IMACE)
International Faculty
Facethetics, India
International Advisory Board Member
Hair Transplant Conclave (HTC)
Faculty/Speaker:
IMCAS World Congress, Paris
AMWC, Monaco
ISDS Annual Congress
DSAC, Institute of Dermatology Thailand
ADAC, Thailand
IMCAS Asia
AMWC Asia, Taiwan
PAAAMMI, Philippines
SAAARMM, Malaysia
IMACE, Malaysia
SAM, Singapore
Body Contouring Specialist
In 2012, Josh Chua was among the first in the nation to perform CoolSculpting treatments, and now has more than half a decade of experience in body contouring treatments. He a graduate of CoolSculpting University where he obtained extensive training. With thousands of body aesthetic treatments completed at Clique® Clinic, he has enhanced his techniques to ensure patients receive the best possible care and outcome from their treatments. His knowledge and skills can help you attain the body you have always wanted.
As the director of Clique® Clinic, Josh Chua is also a wearer of multiple hats handling the growth and dynamics of the clinic. He emphasises the importance of clinic's culture, values and behaviour to set the right strategy and vision for the clinic. He and his team manage clinic's productivity, service efficiency, branding and marketing. At Clique®, providing high-quality patient care and experience is utmost important.
Attending Aesthetic Physician
Dr Christie obtained her M.D qualification from Nizhny Novgorod State Medical Academy, Russia. She furthered her interest in Aesthetics, obtaining her Certificate of AAAM and Malaysia Aesthetic Certificate. 
Her work experience includes Housemanship in Hospital Taiping & Medical Officer in Hospital Tuanku Ampuan Rahimah in Klang. Prior to joining Clique® Clinic, Dr Christie garnered four years of working experience at a renowned Aesthetic Clinic Chain in Klang Valley. 
She is a certified holder of the Letter of Credentialing and Privileges conferred by the Ministry of Health Malaysia. 
Dr Christie believes that each flaw can be beautiful, we just need to incorporate and transform the flaws into beauty. She adopts a patient-centric approach, where treatment will be tailored for each individual to cater to their lifestyle and requirements.
Winner of Anti-Aging & Beauty Trophy for Best Clinical Case in Skin Enhancement Treatment 2018-2019
Member of Malaysian Society of Aesthetics Medicine
Faculty / Speaker
MCA, Monaco 2018
ICAD, Thailand 2018 & 2019
AMWC, Taipei 2019
ADAC, Malaysia 2019
WAAARNEM, Malaysia 2019
FACE, London 2019
Dr Hannah obtained her medical degree (MBChB) from the University of Birmingham UK. Upon graduation, she proceeded with her housemanship and completed further two years of core medical training with National Health Service Uk. This work experience in the UK has moulded Dr Hannah to adopt a very professional patient centred approach during consultations, as can be seen in her interactions with her clients.
Upon returning to Malaysia, she worked in the Dermatology Department of Hospital Kuala Lumpur. It is during this time that Dr Hannah developed her interest in treating various skin conditions and concerns. She was particularly keen on treating the ageing signs of the skin, and discovered that the best way to achieve this through Aesthetics Medicine.
With that in mind, Dr Hannah pursued her interest in Aesthetics by obtaining Certificate of American Academy of Aesthetic Medicine (AAAM) and Malaysia Aesthetic Certifiace (MAC) respectively.
Dr Lo later joined Clique Clinic as an Aesthetic trainee physician where she actively participates in both local and international aesthetic conferences to enhance her knowledge and skills. She is also doing various clinical studies including "Combining Radiofrequency microneedling and  PN skin booster in the treatment of Acne scars". She strongly believes that a good physician should be proactive in academic and clinical skills.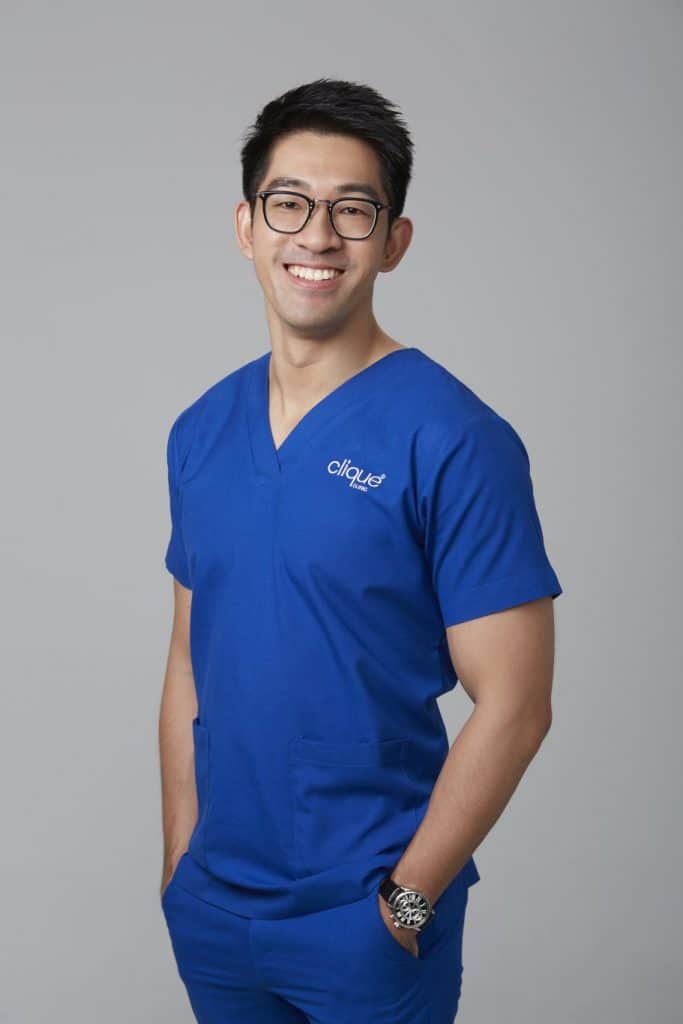 Dr Chong Ian (MB BCh BAO, LRCP & SI) obtained his medical degree and graduated with honours from the Royal College of Surgeons in Ireland. Prior to joining the medical field, Dr Ian studied at Cambridge Tutors College, London and then furthered his engineering studies at Imperial College London, United Kingdom. Upon realising his true calling, he swapped his engineering course for medicine instead. 
Over the years, he has amassed experience from the various medical disciplines throughout his stint at Beaumont Hospital, Dublin (Ireland), Penang General Hospital, University Malaya Medical Centre, and his family medicine district posting at Pahang. In order to better serve his patients, he pursued the Medical Aesthetic Certification (MAC) programme.
Dr Ian believes that everyone should be able to put their best self forward, and is more than happy to help his patients achieve their goals at Clique Clinic. Combining his experience in the field of family medicine with aesthetic medicine, he aims to deliver optimal results for all of his patients. A fitness and sports enthusiast, you may catch him at the many local gyms and tennis courts around Bangsar and PJ.
Aesthetic Physician
Dr Darren Wang obtained his medical degree from Lviv National Medical University, Ukraine. With the passion for medical aesthetics, he had completed his Medical Aesthetic Certificate I (MAC I).
Prior to his journey in medical aesthetics, he was serving locally in Hospital Malacca and Hospital Tunku Ampuan Najihah. Clinical experience as senior emergency medical officer have enhanced skills in producing accurate assessment and intervention. After completing his extensive training in surgical masters programme in Beijing for three years, his hands-on surgical skills improve tremendously. Not only that, the training elevated his level of precision and confidence in fulfilling his medical duties.
With his diverse medical skillsets, Dr Wang strongly believes in building beautiful relationships with his patients where personalisation is key when it comes to slowing down patients' ageing process whilst maintaining their natural youthful look. 
Body Contouring Specialist
With her qualification of Cibtac Aesthetic Treatments, Wendy Ding took a leap of faith in a new direction and career with her passion and dreams in medical aesthetics. Wendy specialises in non-invasive, no-downtime fat reduction and body contouring treatments. She is a graduate of CoolSculpting University where she enhanced her expertise in providing the best treatment and care for our clients.
Since 2014, Wendy has played a pivotal role in handling body contouring treatments, elevating Clique's CoolSculpting to greater heights. As an all-rounder specialist, she is the go-to person for your aesthetic concerns, be it hair, face, skin or body.
Body Contouring Specialist
Gwen Ong obtained her CIDESCO Diploma, a world prestigious qualification for Aesthetic and Beauty therapy in 2013. Following completion of her training in CIDESCO, she gained experience in a well-known beauty center for 2.5 years.
She later joined Clique Clinic as a body sculpting specialist where she attended regional and international training in body contouring. Throughout her 4 years working experience at Clique Clinic, she learned that every patient requires a personalised treatment plan for the best outcome.