Why Ultherapy at Clique Clinic?
Ultherapy Golden Record Award in 4 consecutive years, with the highest number of patients treated in Malaysia
Result oriented with highest patient satisfaction rate
Pioneer Ultherapy provider in Malaysia with doctors applying advanced technique protocols1
Treatments done by experts who are Ultherapy trainers worldwide
Customised and tailored treatment protocols to each patient for best treatment outcome
Why do you need Ultherapy?
Along with wrinkles and fine lines, sagging skin is the most obvious sign of ageing on a face. After the age of 25, most people start losing definition of the jawline, having rounder and fuller face, developing deeper smiling lines and suffering from droopy eye lids. These signs are due to weaking of the anchoring complex as a consequent loss of viscoelastic properties (e.g. collagen, elastin) of the skin and underlying tissues2. The anchoring complex is the structure that holds the skin to the bone. Ultherapy goes deep into the tissues above the muscles, stimulating collagen and elastin production, and strengthens the anchoring complex without surgery or downtime. It is one of the most effective skin tighetning and non-invasive facelift treatment to date.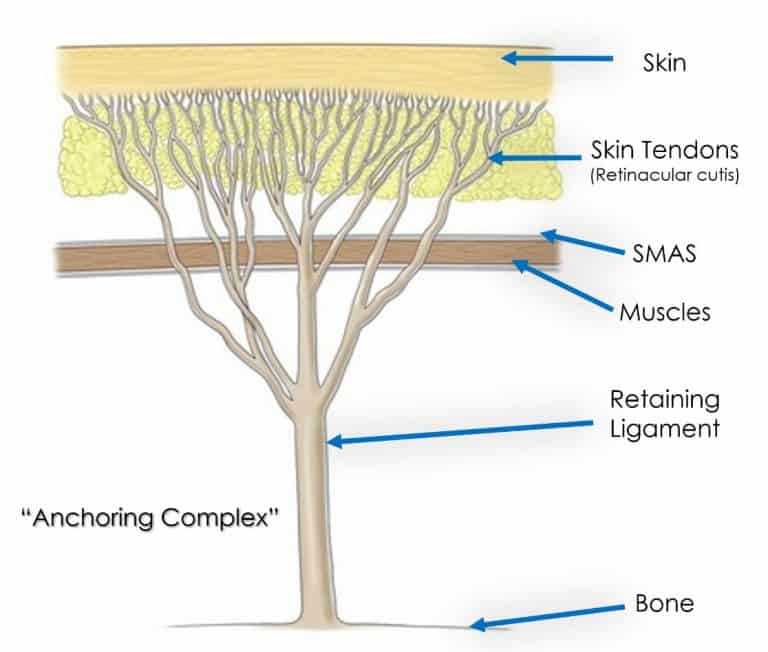 Ultherapy is a non-invasive facelift procedure using safe and time-tested ultrasound energy. It is the only FDA-cleared, non-invasive procedure that lifts the brow, chin and neck, and improves lines and wrinkles on the upper chest (décolletage).
The treatment deposits microfocused ultrasound energy to deeper layers of tissues to stimulate collagen production without disrupting the surface of your skin therefore there is virtually no downtime.
It is a great alternative for those who wants to avoid or not prepared for a surgical facelift. Some patients may notice immediate results after treatment but the real results appear over 2-3 months as collagens gradually build up, and ultimately lift and tighten the skin.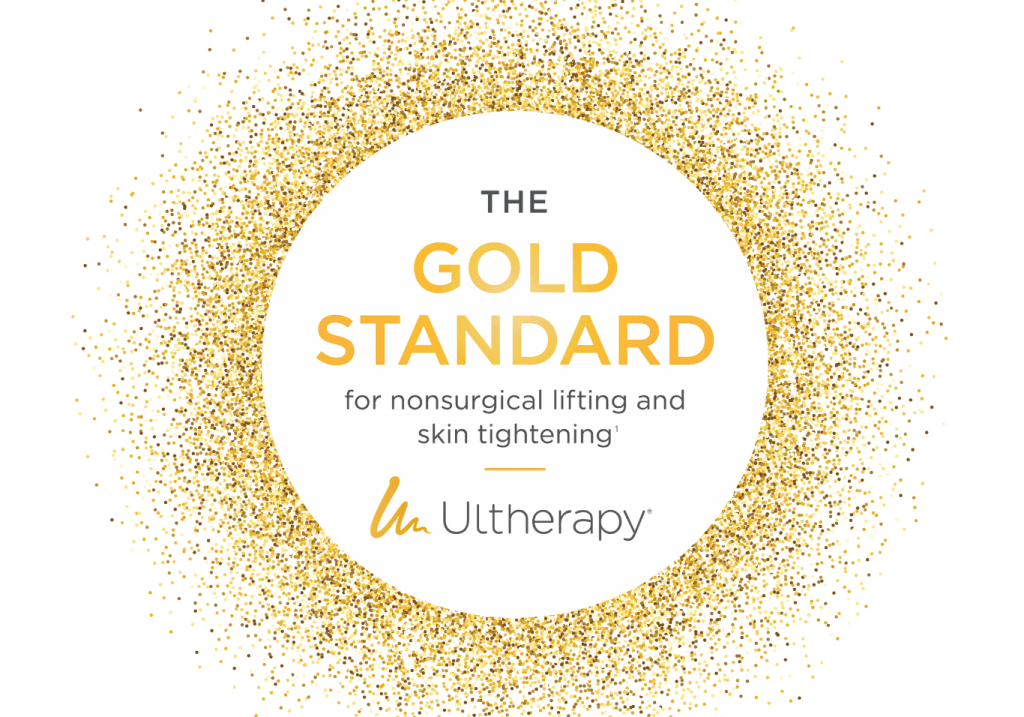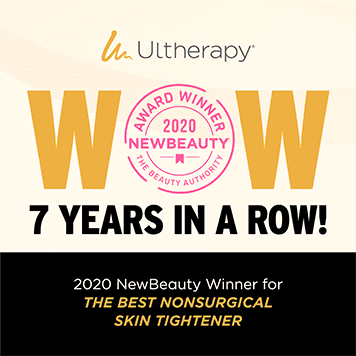 The biggest difference between Ultherapy, also known as micro-focused ultrasound with visualisation (MFU-V) with other High-Intensity Focused Ultrasound (HIFU) devices is the ability to "see" where you treat.
With the DeepSEE technology – a unique visual aid to see the areas being treated, doctors can have an accurate assessment of the tissues and effectively treat the area for the desired facelift and skin tightening. This makes Ultherapy both much safer and much more effective.
HIFU, without the ultrasound screen, is a blind treatment. This means you cannot safely treat as deeply and are less likely to see the desired results.
Ultherapy was the category changer and all HIFU are modeled after the Ultherapy. While some of the HIFU work, many – especially those offered in beauty salons, do not, and can causes serious and long lasting complications.
Unlike HIFU, Ultherapy has undergone rigorous scientific evaluation even before being available in the market.  The safety and efficacy have been well established through more than 50 clinical studies and over 1,750,000 treatments performed worldwide.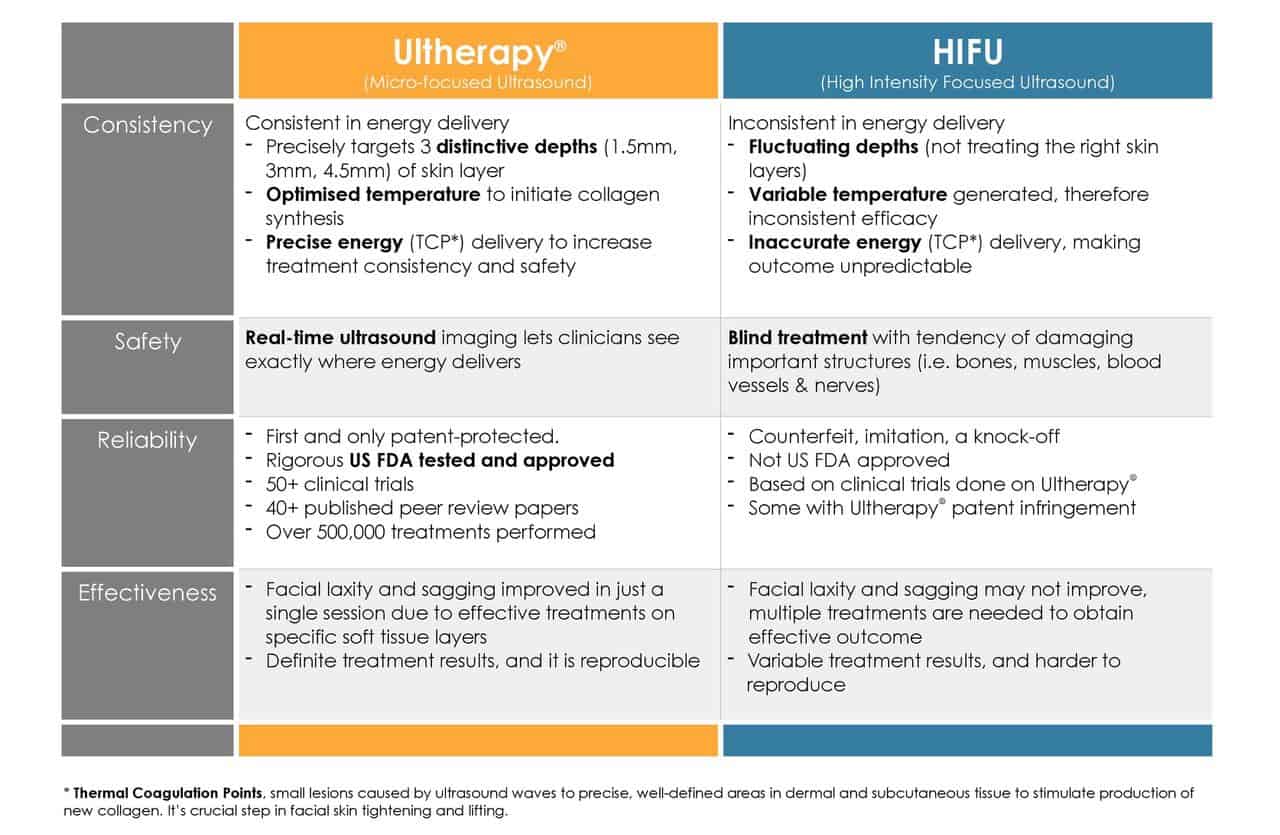 Ultherapy is a very safe treatment, provided it is performed by a well-trained, experienced doctor. We are blessed that our patients at Clique Clinic adore the treatment results and have not seen any complications to date.
With over 1.75 million treatments performed globally, it is a proven treatment with a well-established safety profile.
Ultherapy works by heating the deep layers of the tissues. Everyone will have different sensitivities to this heat. Many patients find the treatment comfortable or very bearable. However, for those with very low pain threshold, we will prescribe you pain killers before your procedure.
Go for ONLY Authentic Ultherapy®. Beware of risky counterfeits.
Clique Clinic Doctors Featured Overseas on Ultherapy:
REFERENCES: 
Park JY, Lin F, Suwanchinda A, Wanitphakdeedecha R, Yu J, Lim TS, Chen JF, Ho W, Lim J, Juniarty L, Kee YS, Youn SJ, Fabi S. Customized Treatment Using Microfocused Ultrasound with Visualization for Optimized Patient Outcomes: A Review of Skin-tightening Energy Technologies and a Pan-Asian Adaptation of the Expert Panel's Gold Standard Consensus. J Clin Aesthet Dermatol. 2021 May;14(5):E70-E79. Epub 2021 May 1. PMID: 34188753; PMCID: PMC8211327.
Goldie K, Kerscher M, Fabi SG, Hirano C, Landau M, Lim TS, Woolery-Lloyd H, Mariwalla K, Park JY, Yutskovskaya Y. Skin Quality – A Holistic 360° View: Consensus Results. Clin Cosmet Investig Dermatol. 2021;14:643-654 
Fabi SG, Joseph J, Sevi J, Green JB, Peterson JD. Optimizing patient outcomes by customizing treatment with microfocused ultrasound with visualization: gold standard consensus guidelines from an expert panel. J Drugs Dermatol. 2019;18(5):426-432.
Ulthera Instructions For Use.
Whitney ZB, Zito PM. Anatomy, skin, superficial musculoaponeurotic system (SMAS) fascia. In: StatPearls. Treasure Island, FL: StatPearls Publishing; 2019. https://www.ncbi.nlm.nih.gov/books/NBK519014/. Updated October 27, 2018. Accessed December 9, 2019.
Fabi SG, Massaki A, Eimpunth S, Pogoda J, Goldman MP. Evaluation of microfocused ultrasound with visualization for lifting, tightening, and wrinkle reduction of the décolletage. J Am Acad Dermatol. 2013;69(6):965-971.
Suh DH, Choi JH, Lee SJ, Jeong KH, Song KY, Shin MK. Comparative histrometric analysis of the effects of high-intensity focused ultrasound and radiofrequency on the skin. J Cosmet Laser Ther. 2015;17(5):230-236.
Each treatment session ranges from 30 minutes to 45 minutes, depending on whether it is a full face treatment or just lower face treatment. Energy is delivered in the form of treatment lines shot onto the treatment area. The more lines that are used, the longer the treatment session.
For most patients, facelift results tend to last for a year or two. As the skin continues to lose its viscoelastic properties due to aging, it is advisable to repeat treatment every year or two, to further enhance results and to increase results longevity.
In many cases, Ultherapy can act as a facelift replacement. Ultherapy treats the deep foundational layer addressed in surgery facelift, with the advantage of natural outcome without the risks and downtime. However, the results may not be as drastic as surgical facelift, unless multiple sessions or combination treatments are performed.