Things people don't tell you about Ultherapy
Ultherapy My Youth Secret
We get lots of questions about Ultherapy – a non-surgical treatment that uses micro focused ultrasound to lift and tighten the skin — so I've done a short explanation, talking about why it is seen as a controversial treatment, whether it hurts as much as people say it does, and why I like it.
The Controversy Bit
It doesn't take much googling to find people saying things online like 'Ultherapy melted my face'. Not the kind of thing you want to hear about a treatment you might be considering. Merz, the company behind Ultherapy, says any treatments that gave this sort of result were not done with genuine Ultherapy machines. Is that too glib an answer? Like most people I tend to think there's no smoke without a fire, but the doctors who do a great deal of Ultherapy say absolutely not – you get no problems if you follow the treatment protocols and, obviously, use genuine Ultheapy device.
Does it hurt that much?
There is no such thing as painless skin tigtening. You have to feel that it is happening. However, it's totally tolerable. To help further, we now offer decent pain-management protocols upon request. Moreover, Ultherapy is tuneable. So treatment setting on everybody differs relying on the patient's feedback. If it hurts too much, the doctor will dial it down.
Why do I like it?
Because it works. I've tried the treatment four times in the past five years and each time I could see the instant tightening effect that you get (small but noticeable) but what really brings the improvement is the way the collagen in the face is boosted and remodelled over the next few months after treatment. It really does seem to be helping my jawline and chin, which otherwise would be going south with age.
Before & After pictures

Other pros and cons?
It isn't cheap – at around RM6,500 (for lower-half face) to RM12,000 (for the whole face) – but then it's a one-off treatment that should keep you going for about 18 months. Also, people who take a 'no needles' approach to face-maintenance can just about square this with their consciences.
There are a couple of similar treatments using focused ultrasound: I haven't tried HIFU (high intensity focused ultrasound) but have heard plenty of reports of it, which you have to repeat the treatment 3-4 times at about RM3,000 per treatment session. Quite a number of my friends have spent a hefty sum of money on multiple treatments prior to seeing the result, and sometimes with little to no visible improvements.
Ultherapy is the treatment that addresses fundamental skin concerns, such as laxity (loosening) at their root cause. It does this by awakening regeneration of new collagen and elastin at multiple levels, stimulating healthier and stronger soft tissues.
Different Hands, Different Results
Whoever you choose to perform the procedure should be someone who has done many and understands the way the technology works. A doctor's knowledge and experience with Ultherapy determine the successful of the results. It comes with the precision in handling the procedure, and number of treatment lines used.
Clique Clinic as one of the top Ultherapy clinic in Malaysia has won with Ultherapy Golden Record Awards in 4 consecutive years.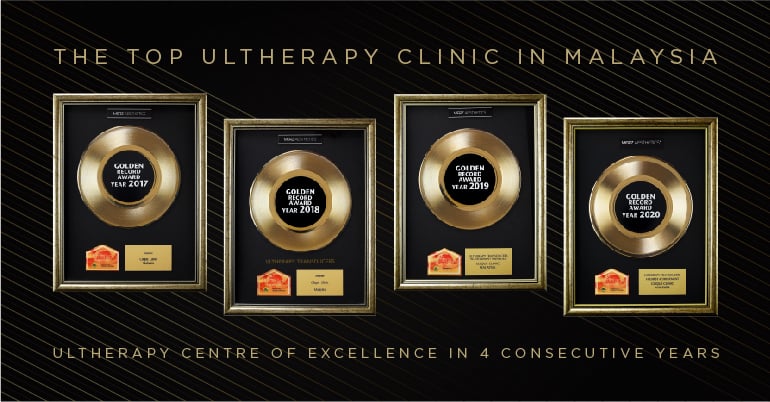 Call us now to know more about Ultherapy and are you the right candidate for Ultherapy.