With the global warming and thinning ozone layer, we are more exposed to the damaging effects of Ulltraviolet (UV) rays than ever. UV rays lead to extrinsic skin ageing, by causing DNA damage to our skin cells.
You may have spent too much time exposed under the blazing sun, you may see some new dark spots or fine lines that were not there before.
While there are innumerable topical creams on the market, no amount of topically applied product can achieve results comparable to aesthetic treatments for skin rejuvenation.
Jennfier Aniston has done Ultherapy, Kim Kardashian has done Ultherapy. Local artistes Bernie Chan and Emily Lim turn to PicoGenesis laser to keep skin flawless.
However, aesthetic medicine technology and treatment is constantly evolving, and it can be overwhelming when you start researching.
Dr Bob John, Clique Clinic's attending aesthetic physician will explain to you about the different types of skin rejuvenation treatment, what they do and what kind of side effects you can expect.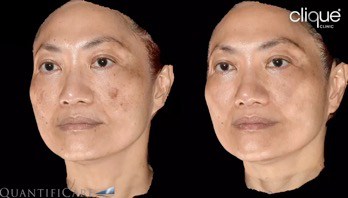 Pigment Laser QS and Picosecond Laser
This is the most common laser treatment, and anyone can benefit from this laser treatment. Pigment lasers target and treat pigmentations, giving you an even skin tone and radiant skin.
The whole treatment only takes approximately half an hour, and is associated with minimal discomfort. It's a cumulative treatment, meaning the more times you do it, the better results you get.
What is even better, you can incorporate this treatment into your maintenance routine. There is no proven unwanted long- term adverse effects for pigment laser treatments.
Side Effects/Down Time: Your skin will be pinkish for about an hour, but you can put makeup on right away. This is something you can do even on the day before an important event.
Dual Yellow Copper Bromide Laser 
Apart from pigmentations, another sign of skin ageing is the appearance of fine vessels (telangiectasia).  Studies have shown that there is a vascular element to pigmentation. Therefore treating the unwanted blood vessels will also lead to brighter complexion.
Unwanted blood vessels on our skin is also attributes to skin blemishes, such in the case of acne, rosacea and skin sensitivity.
A yellow laser wavelength is very specific to target unwanted blood vessels and redness, reducing redness and inflammation.
Side Effects/Down Time: There is virtually no side effect or down time with this treatment. The treatment is comfortable, with only slight warmth felt at the skin. Even sensitive skin like Rosacea, eczema or acneic skin can undergo this laser without exacerbating your condition.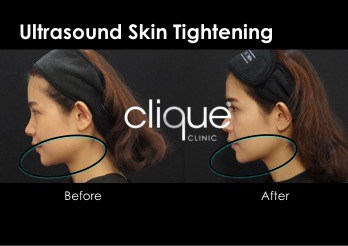 Ultherapy and Sylfirm
Lasers are light based devices that typically may only be able to treat superficial skin problems. You need ultrasound and radiofrequency based devices to target deeper structures of the skin if you have sagging skin concerns and would like the benefits of skin tightening.
Ultrasound based device like Ultherapy and radiofrequency based device like Sylfirm produce long lasting results due to the collagen stimulating effects. They are very safe technologies with minimal side effects, and delays the process of skin ageing and skin laxity (loosening).
Side Effects/Down Time: There is minimal, if any downtime at all with skin tightening devices. You can even do it in the middle of the week and go back to work without having to consider for downtime related with some aesthetic skin treatments.
Combination Therapy 
Like many medical treatments, it's often better to tackle an issue with more than one modality. Lasers are frequently used in combination with other therapies.
Acne skin with hyperpigmentation: Dual Yellow laser and Sylfirm is the ideal combination in treatment of acne. Both treatments are able to target the vascular components of acne, as well as the pigmentary component that occurs in Postinflammatory Hyperpigmentation.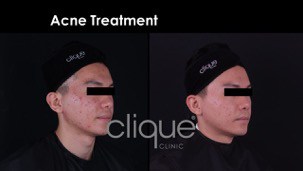 Topical treatment immediately post-laser: Post treatment skincare is just as important to allow the skin time to heal, as well as to complement the treatment to give you best results. Clique Prescriptive range of products are catered according to your individual skin concern, and work hand in hand with our treatments to provide you the best outcome.
Sagging skin with facial volume loss: As we age, we lose facial volume due to reduction of facial fat pads and loss of collagen. This can lead to sunken areas on our faces as well as loosening and sagging skin. A combination of dermal fillers with skin tightening treatment e.g. Ultherapy works best for ageing skin with volume loss and sagging skin.