Injectable rejuvenation treatments used in Caucasians might not always suit Asians as the visible signs of aging manifest differently, underscoring a need for Asian-specific strategies that correct underlying structural deficiencies and cumulative age-related changes.
Aims to simultaneously restore, rejuvenate, and enhance faces through the distribution of minute amounts of different fillers with different rheologies, using a minimal number of entry points in strategic facial areas and different soft tissue layers in Asians.
Dynamic and cumulative changes in tissue structure occur during physiological facial aging because of bone resorption, weakening of soft tissue layer attachments, soft tissue displacement, and muscular changes. These changes lead to droopy eyelids, tear troughs, eye bags, nasolabial fold, jowling, and loss of jawline contours. These can be treated and ameliorated non-surgically with hyaluronic acid (HA) filler injections. HA fillers are used to correct facial contours, restore volume deficits, improve static wrinkles, elevate oral commissures, and relieve nasolabial folds.
Due to its affordability, relative safety, and efficacy at improving signs of facial aging. HA fillers have become popular among those seeking aesthetic treatments in Asia. While HA fillers are predominantly sued for volume replenishment, the immediate and long-term effects of HA fillers in different facial skeletal structures and soft tissue condition vary. The choice of products used, the volume inserted, and the injection technique applied also have a significant impact on the outcome of filler treatment.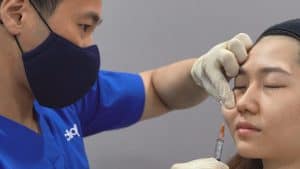 Read the full article: https://onlinelibrary.wiley.com/doi/epdf/10.1111/jocd.14342
TSST Filler injection on real patient: https://youtu.be/vWF4IE4OuiQ
Would like to consult Dr Lim, please WhatsApp or Call us to make an appointment: +60123537960